Hexamerge
Approved for all ages
Hexamerge - Puzzle your way to a new high score!
Hexamerge is an exciting puzzle game in which you fill a field with hexagons and merge them.
Collect as many points as you can on a limited playing field and fill it again and again with point-giving tiles in the form of hexagons, i.e. hexagons. These can be single puzzle pieces or two that belong together. Click on the puzzle piece to the right outside the play area to rotate and adjust it to fit the spot on the play area that you feel makes strategic sense. The hexagons have different values in Hexamerge. At least three with the same value merge to the next highest value on the board when placed next to each other. This way you can not only score more points, but also create more space on your playing field. You also have two power-ups at your disposal: The trash can can clear the current token and provide you with the next one. The hammer can remove a tile on the board. Use them in situations where you get stuck or to give yourself an advantage.
More exciting merge games for you
If you enjoyed Hexamerge, why not play Merge and Decor?
Test your brain power, get a new high score and play Hexamerge free online on KibaGames!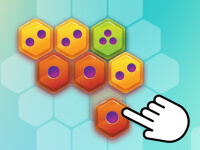 Hexamerge
Originalname:
Game Hits:
0
Online since:
06.
05. 2023
Developer: