Merge & Decor
Approved for all ages
Merge & Decor - Renovate your dream house!
Merge & Decor is a new merge game where you can connect items, collect stars and renovate your house!
At the beginning, your playing field is limited and you only have cleaning materials to connect. Combine the matching items and then drag them to locked playfields to unlock them. This will increase your playing field and you'll be able to connect more objects and use more categories like kitchen utensils, furniture, food or toys.
Soon you'll also get orders from people. You will see them with their wishes above the game field. Once you have remembered the item, you can click on the green checkmark and deliver the item. For all this you get money and stars. With the stars you can renovate and furnish your rooms. What floor and wall color will you choose? Start in the entrance hall, then enter the living room and all the other rooms of the house. You can also use the game money to open boxes or buy various boosters.
More relaxing merge games in which you can decorate a house
If you liked Merge & Decor, you should also play Home Makeover!
What's waiting for you behind the next door? Decorate your dream house now and play Merge & Decor free online on KibaGames!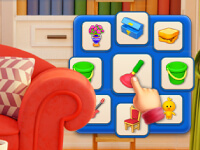 Merge & Decor
Originalname:
Game Hits:
0
Online since:
04.
03. 2023
Developer: