Helicopter Rescue Flying Simulator 3D
Approved for Ages 6+
Helicopter Rescue Flying Simulator 3 - complete exciting missions in a helicopter!
Helicopter Rescue Flying Simulator 3 is a cool flight game in which you can fly around in a helicopter and complete exciting missions.    
Start the vertical takeoff aircraft with the left shift/shift key and take off on your first mission. Control your helicopter with WASD or the arrow keys to fly up, down and to the sides. With Q and E you can make slight sideways movements. With the spacebar you can land the helicopter.     
After you have familiarized yourself with the controls, you can fly to the glowing target fields and receive missions there to complete in order to earn money. Fuel, upgrades and new helicopter models must eventually be paid for. Transport cargo, passengers and go on daring rescue missions. Cross exotic island landscapes as well as narrow urban canyons and train your skills as a real helicopter pilot!    
Don't miss this new helicopter adventure and play Helicopter Rescue Flying Simulator 3 free online on Kibagames!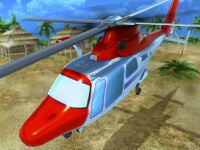 Helicopter Rescue Flying Simulator 3D
Originalname:
Game Hits:
363
Online since:
28.
10. 2021
Developer: