Halloween Ghost Balls
Approved for all ages
Halloween Ghost Balls - guide the ghost balls through an enchanted maze!
Halloween Ghost Balls is a cute skill game in which you can guide a swarm of ghost balls through an enchanted maze.
Halloween is the time of ghosts and even they sometimes appear in groups! On this night, guide a swarm of ghost balls safely from level to level through a maze underground. Use your mouse or finger to make your group of ghosts float through the labyrinthine corridors of the maze. It is important to always keep the majority of the group together and leave no one behind.
In the upper part of the screen you will always see how many of your ghosts should float through a portal at the end in order to pass the level. So it's worth floating back sometimes if you've lost sight of a ghost, so that it can return to the group. On the way, not only obstacles like narrow, tangled corridors await your group of ghosts, but also a rooster, who probably loves these balls to eat. However, you can make your group float above these by simply moving your finger or the mouse higher, because the scary balls will follow your guidance. On your way, you can also collect green glowing will-o'-the-wisps here. At the end of the level you will receive gold for your achievement. You can use this gold to give your ghosts a new look. Instead of ghosts, how about little devils, angels or spiders?
By the way, you can find more exciting online games for the night of ghosts in our Halloween category!
Don't miss out on this sweet spooky fun and play Halloween Ghost Balls free online on KibaGames!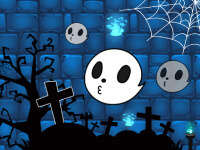 Halloween Ghost Balls
Originalname:
Game Hits:
0
Online since:
15.
10. 2022
Developer: