Gravity Soccer 3
Approved for all ages
Gravity Soccer 3 - use the laws of gravity to play soccer!
Gravity Soccer 3 is a cool soccer game in which you can shoot the ball into the goal using the right chain reactions.
Click or tap on the individual objects to destroy them and thus trigger the appropriate chain reactions involving gravity. Blocks break, bombs explode, and wooden boards disappear so that the soccer ball starts rolling and takes all three stars with it on its way into the goal. In case you didn't do it logically and you lost the ball, you can start the level all over again. Now entertain the crowd in the soccer stadium with your great tricks and play through 21 levels full of great challenges!
Use your brain and physics to kick the ball into the goal! Play Gravity Soccer 3 free online now on KibaGames!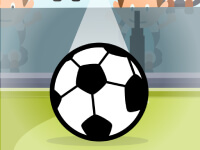 Gravity Soccer 3
Originalname:
Game Hits:
0
Online since:
15.
04. 2022
Developer: