Goldminer
Approved for all ages
Goldminer - collect all the gold nuggets!
Goldminer is a classic skill game in which you can fish for lots of gold nuggets underground with your dwarf.
Play with the arrow keys and extend your grapple at the right moment so that he catches a big piece of gold or another valuable resource. Stones will bring you some money, diamonds are very valuable and the bags with the question mark can hide even more money or other resources like sticks of dynamite. Pay attention to the time: usually you have only one minute in a level to reach the level goals.
With the money you earn, your eager dwarf can buy more tools like dynamite or the gold find or diamond booster in the store between levels. Gold and diamonds will thus be worth three times more in a level. If you hook a worthless find, you can throw the dynamite up with the arrow key to blast away rocks you accidentally collected.
Now let's go to the mine! Don't miss this treasure hunt and play Goldminer free online on Kibagames!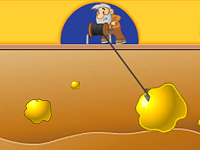 Goldminer
Originalname:
Game Hits:
322
Online since:
01.
01. 2020
Developer: