Gem Stacker
Approved for Ages 6+
Gem Stacker - work on valuable jewels!
Gem Stacker is a fun hyper casual game in which you'll be able to collect, process and sell lots of gems!
Have you always been interested in jewels and jewelry? Here you can prove if you have a good eye for jewelry! On the course in front of you, first collect the raw stones and then work on them so that they will eventually adorn a neck, fingers or earlobes as precious jewelry.
To do this, control Gem Stacker with your mouse or by wiping your finger across the screen with one hand. A lot of pressure is needed to get gems. Run the raw stones under a press to grind off the first layers. After that you should pass them through a grid to press them into shape. Now the stones already look like the coveted pieces of jewelry! On the way in front of you, you can pass the stones through water or have them checked to see if they are real gemstones, and then finish them off as a ring or necklace. Once you have collected enough gems, you can sell them to different jewelers to always set a new high score with the profit.
With the won game money you can upgrade the jewelers and different stores at the end or buy new skins for gems and your tax hand.
Other quick games for small breaks
If you like Gem Stacker, then play Monster Rush. You can find many more jewel games in the 1001 Games category.
Let yourself be inspired by this new jewel game of a different kind and play Gem Stacker free online on KibaGames!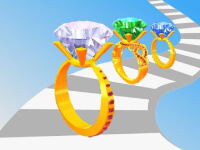 Gem Stacker
Originalname:
Game Hits:
0
Online since:
01.
11. 2022
Developer: