Football Superstars 2022
Approved for all ages
Football Superstars 2022 - fight for the most goals!
Soccer Superstars 2022 is a fast-paced soccer game where you can kick for the most goals for as long as you want.
Choose your team and you're ready to go. Then decide whether you want to play a friendly match or a tournament match.
Control your soccer players with the arrow keys and shoot the ball with D. You can make a long pass with A and a simple pass with S. With the map in the upper left corner you can orientate yourself and get an overview of your team. Time is running out, but that's not so bad, because you can play soccer as long as you want in Football Superstars 2022. Compete for the cup and let this new mini-sports game relieve your boredom.
Now get on the pitch! Fight for the most goals with good tactics and play Football Superstars 2022 free online on KibaGames!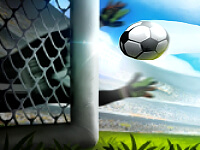 Football Superstars 2022
Originalname:
Game Hits:
0
Online since:
13.
05. 2022
Developer: