Feller 3D
Approved for all ages
Feller 3D - Become a hardworking lumberjack!
Feller 3D is a cool simulation game where you can build your own cabins as a lumberjack!
The forest offers a lot of opportunities for self-sufficient living! Play through many levels in Feller 3D, unlock new tools and new areas and clear a place for your new home. This is especially fun in realistic 3D graphics!
With the axe you cut down trees, free them from branches and cut the trunks into small wooden blocks. Then you have to clean the individual pieces of wood and remove the bark. Also clean up the chips and maintain the chainsaw so that it works properly during the felling work. Or would you rather use your sharp axe? Various mini-games will guide you through the processing of the wood until you can build and decorate a beautiful hut from it. Per level you get money, which you can then use for your hut.
More exciting online games for hearty lumberjacks and lumberjack girls
If you liked Feller 3D, then why not try working in the forest in Cut 3D!
Are you a real woodsman? Build the best wooden houses now and play Feller 3D free online on KibaGames!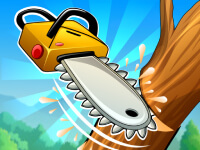 Feller 3D
Originalname:
Game Hits:
0
Online since:
11.
04. 2023
Developer: