Happy Farm Make Water Pipes
Approved for all ages
Happy Farm Make Water Pipes - water a garden!
Happy Farm Make Water Pipes is a summer brain game in which you can connect pipes and water vegetables and fruits.
In summer the delicious vegetables, berries and fruits in the garden need extra watering if it doesn't rain. Connect the pipes that carry water from the stream next to the garden to the different beds. Click or tap the pipes and the beds to rotate them and find the right position. Let the water flow and pop up strawberries and co. That way you can see that they are getting enough water. Sometimes you have to try a bit until you find the right solution.
Play Happy Farm Make Water Pipes in three game modes: the classic connect the pipes, for the best time and against the elapsing time. If you achieve a partial success, you will be credited with additional seconds!
Are you a real pro in the flowerbed? 100 levels of challenges are waiting for you! Operate the irrigation system now and play Happy Farm Make Water Pipes free online on KibaGames!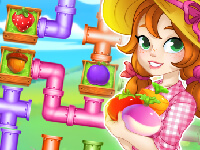 Happy Farm Make Water Pipes
Originalname:
Game Hits:
0
Online since:
11.
07. 2022
Developer: