FGP Plumber Game
Approved for all ages
FGP Plumber Game - Get the water flowing!
FGP Plumber Game is a cool brain game in which you can put pipes together to get the water flowing again.
Click with your mouse or finger to arrange the jumbled pipes so that you can move water from one side to the other. You don't always need all the pipes on the board to reach the goal, often just a few steps are enough. However, it gets more difficult from level to level. Later you will have to connect several supply pipes.
There are two game modes: classic mode and time mode. In classic mode you can concentrate on the puzzle and get to the solution without time pressure. In Time mode, the water level slowly rises and you have to solve the puzzle before the whole screen is full of water.
More plumber games for you
If you liked FGP Plumber Game, then play Happy Farm Make Water Pipes.
Connect the right hoses now and play FGP Plumber Game free online on KibaGames!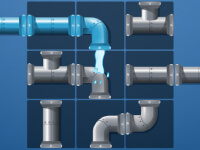 FGP Plumber Game
Originalname:
Game Hits:
0
Online since:
04.
02. 2023
Developer: