Extreme Runway Racing
Approved for Ages 6+
Extreme Runway Racing - Win against other players or against the clock!
Extreme Runway Racing is a terrific racing game where you can race against seven other drivers for the win.
Once again, it's onto the race track together! At the beginning, choose a skin for your vehicle and then the mode you want to compete in. And off you go.
Play alone or with a friend on a keyboard. In the single player you can use the Arcade mode or the Time Trial mode. In the first mode, the goal is for you to charge to first place within three laps. In Time Trial you race against the clock, always trying to beat your own best time. If you play together in multiplayer, only Arcade mode is available.
Controls: Player 1 uses the ESDF keys and the H key to restart. Player 2 uses the arrow keys and the C key to restart.
More car games for you
If you liked Extreme Runway Racing, why not play Drag Racing City?
Now warm up the engine, step on the gas and play Extreme Runway Racing free online on KibaGames!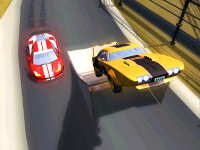 Extreme Runway Racing
Originalname:
Game Hits:
0
Online since:
27.
04. 2023
Developer: