Drag Racing City
Approved for all ages
Drag Racing City - Go from zero to a hundred in seconds!
Drag Racing City is a cool racing game where you have to step on the gas and shift gears at the right moment to win.
In this acceleration race, show that you can shift gears at the right moment to be faster than your competitors. Your goal, of course, is to get your car across the finish line first. The game is played with the keyboard or with your finger. Follow the on-screen instructions and battle your way through four game modes in four unique locations!
You have 32 different cars at your disposal, which of course you have to unlock first. You can keep upgrading your first race car to give you a good chance of winning. Speed and good timing plus tuning will take you further!
More free car games with fast racers
If you liked Drag Racing City, then try Drag Racing Club.
GTA was yesterday! Step on the gas again and play Drag Racing City online for free on KibaGames!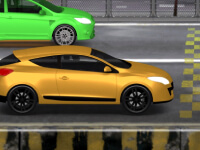 Drag Racing City
Originalname:
Game Hits:
0
Online since:
02.
03. 2023
Developer: