Expert Parkour 3D
Approved for Ages 6+
Expert Parkour 3D - Fight your way through 30 levels!
Expert Parkour 3D is an exciting platform game where you jump from platform to platform with your stickman!
Reach the finish without falling off. Use WASD, the arrow keys or your finger to control your stickman. Use the spacebar to jump and the mouse to position the camera.
When moving, you can use one finger to set the direction and the other finger to tap to jump. To rotate the camera, you need to swipe in the corresponding direction. Dodge obstacles like rotating beams or swinging wrecking balls. Play through 30 levels with many challenges and train your skills.
More fast platform games
If you liked Expert Parkour 3D, you should also try Vex 7.
React at the right moment and play Expert Parkour 3D free online on KibaGames!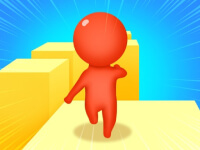 Expert Parkour 3D
Originalname:
Game Hits:
0
Online since:
07.
03. 2023
Developer: