End Of War
Approved for Ages 6+
End of War - Rebuild your country!
End of War is an exciting idle game in which you can rebuild cities and lands destroyed during the war!
Fortunately, the war is over and has left behind a lot of destruction. Can you rebuild the battered land? Survivors can help you rebuild, including those you rescue from the rubble. Clear out debris, cut down trees and use these wood resources to rebuild new homes for the inhabitants of each region. In newly unlocked areas, you can even rebuild factories to process wood into planks or recycle scrap into bricks. You will also need these later to build new dwellings. At houses with bonfires you can buy power-ups or more workers for money. You get money when you sell wood instead of processing it into boards, or when you have completed the cleanup of a region. Thus, use your resources wisely and create a new livelihood for the previously war-torn population.
More idle games in which you can build houses
If you liked End of War, play My Mini City and build a new city with your construction workers!
Do valuable construction work now and play End of War online for free on KibaGames!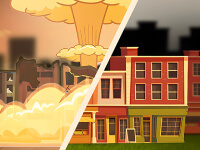 End Of War
Originalname:
Game Hits:
0
Online since:
02.
05. 2023
Developer: