Dr. Panda School
Approved for all ages
Dr. Panda School - Discover your own school story!
The first day of school is always exciting, and Dr. Panda and his animal friends are no exception. Go on a fun adventure and explore the school in this cute kids game. Visit the different rooms and try out everything: In the art room you can paint, create clay sculptures or saw, in the classroom you can practice math or play with Hambo the hamster. 
In Dr. Panda School you can interact with all the objects and experience your very own stories, there are no limits to your imagination! Play as a student, teacher, cook or janitor and style your characters with different outfits.
After so much excitement, the students are hungry - treat yourself to a delicious meal in the cafeteria together with your animal schoolmates before going outside to play or garden in the school garden. Oh no, the little polar bear has hurt himself on the raspberry bushes! Quickly take him to the first aid room and give him a band-aid. I wonder what else will happen today?
Are you ready for your own school adventure? Then play Dr. Pandas School online for free on KibaGames!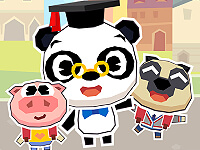 Dr. Panda School
Originalname:
Game Hits:
328
Online since:
26.
09. 2021
Developer: