Ditching Class
Approved for Ages 6+
Ditching Class - sneak out of the classroom!
Ditching Class is a fun Escape game where you have to sneak out of the classroom at school without getting caught by the teacher.
Going back to school is not your thing? Sneak out of the classroom without being discovered by finding the right tools and solutions for each level. A key that opens the door for you is a good start. As you collect items, they move to the white bar at the bottom. Click on them to use them and then click on the place where you want to use them. Example: key and lock.
Keep trying new ways to escape, but also beware of traps and, of course, the angry teacher. Navigate the room with the arrows and find the right way out of the classroom. If you fail to escape, you can start over again. Also use the light bulb icon at the top right to get hints in difficult levels.
Escape from boring classes now and play Ditching Class, the HTML5 game for the app, free online on KibaGames!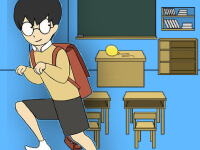 Ditching Class
Originalname:
Game Hits:
224
Online since:
18.
09. 2021
Developer: