Crazy Intersection
Approved for Ages 6+
Crazy Intersection - get in line with many vehicles!
Crazy Intersection is an exciting reaction game where you can turn into gaps in the flowing traffic at the right moment with different cars.
Click or tap to make different cars, trucks, fire trucks or buses turn into the lane in front of them at a T-intersection. React at the right moment to avoid causing accidents. Pay attention to the length of the vehicles and speed of the moving cars. Earn money with good driving maneuvers and unlock new levels that will be a bit harder than the previous ones. With a little luck, you can also collect valuable gold coins and blue booster coins on the road. With the boosters, you'll be able to make all your cars turn at once. Other road users will simply be rammed to the side without you going game over!
Tip: If you liked Crazy Intersection, then why don't you try Uphill Rush 9?
Step on the gas at the right moment and play Crazy Intersection online for free on KibaGames!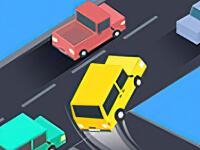 Crazy Intersection
Originalname:
Game Hits:
0
Online since:
25.
08. 2022
Developer: