Climb Hero
Approved for Ages 6+
Climb Hero - climb up a steep rock face!     
Climb Hero is a fun reaction game where you climb the rock face of a steep mountain with a strong climber.  
Click or tap to grab the next ledge as the strong man spins on the rock wall. Grab the ledges and climb a bit further at the right moment without falling into the depths!  Watch out, some ledges are loose and break away after a few seconds. Earn red rubies to spend on new equipment, a cool Viking helmet and tattoos. This makes climbing fun!  Quickly set a new high score with skill and soon reach the next checkpoint. From there you can restart the Climb Hero again and again.    
Become a hero of the steep face now and play Climb Hero free online on Kibagames!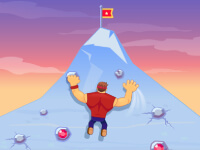 Climb Hero
Originalname:
Game Hits:
221
Online since:
04.
09. 2021
Developer: