Chick Chicken Connect
Approved for all ages
Chick Chicken Connect - Connect all the chickens!
Chick Chicken Connect is a cute match 3 game where you can connect chickens and play for the highest score!
Connect three or more white chickens of the same color to clear them. You have a limited number of moves to do this, and your goal is to earn lots of points for your high score on the one hand, and to increase the number of moves you make on the other! To do this, clear especially large clusters of birds and create a bomb that increases the number of moves or blows up a certain area on the playing field.
By clearing the required number of chickens, you can also trigger the skill special and remove a certain number of chickens from the board. When you collect enough colored chicks, you trigger Fever mode, where you get extra moves to activate bombs on the field.
When the number of moves reaches zero, the game round is over and you can upgrade and start all over again.
With the coins you get at the end of a round, you can increase the level bonus and buy power ups. With these you get more moves, need less chickens for the skill special or can make more Fever moves.
More match-3 connecting games with cute animals
If you liked Chick Chicken Connect, why not play Farm Fun?
Make the chicken coop fun now and play Chick Chicken Connect free online on KibaGames!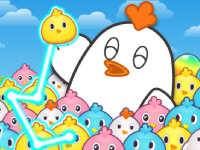 Chick Chicken Connect
Originalname:
Game Hits:
0
Online since:
20.
05. 2023
Developer: