Cargo Ship
Approved for all ages
Cargo Ship - Ship big containers!
Cargo Ship is a fun idle game in which you'll sail across America in a container ship and trade!
World trade is heavily influenced by shipping, which transports goods across the oceans around the globe. Start with a small container ship and keep expanding your logistics company. You control the ship with your mouse or finger and can load and unload different colored containers in different ports. For successfully unloaded containers you get coins that you can use to improve your ship or unlock new areas with new crates. With better values for length, height and speed you can transport larger amounts of goods faster.
But you can't just find disdainful overseas containers, but also treasure chests and valuable artifacts like Poseidon's trident on the sea map, which you can exchange for diamonds at the Atlantis merchant in cities like New York.
As in the app "Trade Ship", you also have the opportunity to find mysterious places - what awaits you there?
More exciting management games for you
If you like Cargo Ship, why not play Healing Rush and manage your own hospital?
Get excited about this new business simulation, put on your captain's hat and play Cargo Ship free online on KibaGames!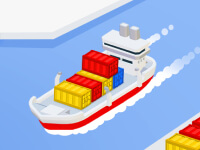 Cargo Ship
Originalname:
Game Hits:
0
Online since:
16.
05. 2023
Developer: