Bubble Tanks 3
Approved for all ages
Bubble Tanks 3 - shoot and collect small balls!
Bubble Tanks 3 is a cool skill game where you can shoot other tanks in different big bubbles with a small tank and grow through the debris balls.
Control your tank with WASD or the arrow keys and shoot the other tanks in the different bubbles with the mouse. You can catch small enemies right from the start if they don't escape your field of fire quickly. Larger combat units also require you to have greater shooting power and strength. Grow your armor by collecting the small orbs that fly around after destroying an enemy.
Watch your health, don't let yourself get hit too often, and keep upgrading your ammo supplies. Then switch from bubbles to bubbles and really clean up!
Tip: In the menu you can customize a bubble tank to make it even more powerful.  
You can also pause Bubble Tanks 3 by pressing P.
Let's go! Experience a lot of new fun with modern graphics and addictive gameplay and play Bubble Tanks 3 free online on KibaGames!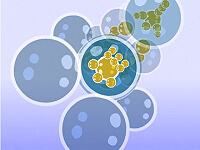 Bubble Tanks 3
Originalname:
Game Hits:
0
Online since:
04.
03. 2022
Developer: