Ball Puzzle
Approved for all ages
Ball Puzzle - get the ball rolling!
Ball Puzzle is an easy-to-learn maze game in which you'll be able to push together the path of a small ball in as few moves as possible.
Move the puzzle pieces in as few moves as possible to make the white ball roll into the goal. The 240 levels range from beginner to expert mode and are full of challenges! Get rewarded with up to three stars and use your mouse or fingers to sort the tiles. Sometimes you won't be able to move them directly to the right place, but you'll have to store them somewhere else on the board first. If you get stuck, you can press the back button and start again. Getting hints is also possible. Can you crack the levels in as few moves as possible?
Tip: If you liked Ball Puzzle, why don't you play Marbles Garden?
And now get to the new pipe-connecting game! Play Ball Puzzle free online on KibaGames!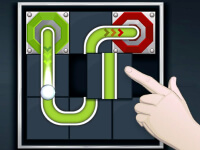 Ball Puzzle
Originalname:
Game Hits:
0
Online since:
19.
08. 2022
Developer: