Apple Worm
Approved for all ages
Apple Worm - eat your way to the goal!
Apple Worm is a fun brain game in which you'll have to find the right way to the goal with a little worm.
On his way through the apple tree, your new friend will overcome lots of obstacles and cross a whole maze full of narrow passages. Can you help him along the way? Apples make the little worm bigger, so he can climb up walls more easily. Don't miss the sweet fruit and play through 30 challenging levels.
The special thing about Apple Worm is that you'll always unlock the next three levels when you complete one. You can also skip levels to reach the goal faster. On the other hand, many levels also offer you longer gameplay and the possibility to get to know your worm and its abilities better. Decide for yourself and start playing!
How to play Apple Worm
Enjoy the intuitive controls of this charming logic puzzle:
Control your worm with the arrow keys. Unfortunately, your playmate can't crawl backwards.
With R you can restart the level if you get lost.
As soon as the apple is within reach, your worm opens its mouth. Then simply head for the delicious fruit to eat it and let your worm grow.
In higher levels you will come across several apples that can make your worm grow very long. Find the right balance between eating and crawling here, so as not to grow too big for the narrow corridors of the maze.
Here you will also encounter sharp spikes that the apple worm doesn't like at all. Skillfully avoid them on the way to the exit.
Tips and tricks - how to get the fruit
The obvious way is not always the right one, but you can find your way to the next level with some thought and a good strategy.
Crawl the right curves.
Use apples as a bridge.
Also use tools like stone blocks.
More free brain games for crafty tacticians
If you liked Apple Worm, why not play Fireboy and Watergirl and Party Cat!
And now let's go to the apple tree! Play Apple Worm free online on KibaGames!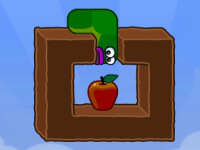 Apple Worm
Originalname:
Game Hits:
722
Online since:
27.
02. 2022
Developer: