100 Doors: Escape Room
Approved for all ages
100 Doors: Escape Room - Explore an enchanted house!
100 Doors: Escape Room is an entertaining escape game where you can solve exciting puzzles behind 100 doors!
Decipher 100 puzzles to open the doors in Lord Kelly's mysterious mansion and move from room to room. Find and use objects in the rooms that you can, for example, turn or pull away. Or why not push aside a carpet and see what's hidden underneath? Numerous tasks and surprises await you!
If you get stuck, you can click on the crystal at the bottom left and get a hint. There you will also find your inventory. If there are items in the respective room that you can collect, they will end up here. If you want to read again what this item is and if it has a special feature, click on it and you will get a description. Drag it into the room to a place that you think will help solve the puzzle. After each level you will learn another fun fact. With logical thinking and a little patience you can explore the whole house in best point and click manner!
More exciting Escape Games
If you liked 100 Doors: Escape Room, then play 100 Doors: Escape Puzzle.
Uncover numerous secrets and play 100 Doors: Escape Room free online on KibaGames!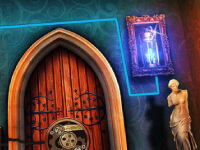 100 Doors: Escape Room
Originalname:
Game Hits:
0
Online since:
26.
03. 2023
Developer: