Zodiac #Hashtag Challenge
Approved for all ages
Zodiac #Hashtag Challenge - style 12 cosmic outfits!
Zodiac #Hashtag Challenge is a cute lifestyle game in which you can create outfits matching all 12 zodiac signs.
Select all 12 zodiac signs one by one and style an outfit to match them, complemented by a typical hairstyle. For example, Aries has two magnificent curved horns, Capricorn's are straight and Libra has two scales in her hair.
In the store, choose clothes and accessories that match or even depict your zodiac sign. Aquarius often wears blue clothes or a trident print on the T-shirt. And how about a little lion or cancer as a handbag? Many options are possible and some of them can be used for different zodiac looks.
Shoot a photo of your outfit designs, edit them with filters and post them on your social media channels to get lots of clicks and earn money with successful looks to the hashtags. With your winnings you can immediately start the next round of the Zodiac #Hashtag Challenge. Even if you're not into astrology and horoscopes, this challenge is great fun!
Which zodiac sign are you? Write it in the comments and play Zodiac #Hashtag Challenge online for free on KibaGames!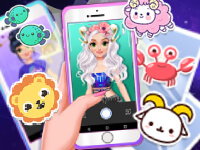 Zodiac #Hashtag Challenge
Originalname:
Game Hits:
0
Online since:
05.
08. 2022
Developer: