Yummy Donut Factory
Approved for all ages
Yummy Donut Factory - bake delicious donuts!
Yummy Donut Factory is a cute kids game in which you can bake and decorate delicious donuts.
Just follow the instructions in the game and tap or click on the ingredients and kitchen utensils. First, count out the right amount of ingredients: you'll find them in the recipe in the bottom left corner. Put eggs, sugar, flour and milk in a bowl and mix them into a good donut batter. Pour the dough into a piping gun after rolling it out, and then pipe it into the donut cups of your choice. Bake the delicious fat pastry at the right temperature and for the right baking time, and let it cool. After that, you can decorate it with a glaze made of cocoa or sugar and add other toppings and decorations. With each step you correctly perform in Yummy Donut Factory, you'll win more Achievements.
Bake new sweets now and play Yummy Donut Factory free online on KibaGames!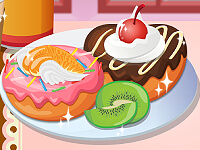 Yummy Donut Factory
Originalname:
Game Hits:
0
Online since:
25.
03. 2022
Developer: