World Puzzle
Approved for all ages
World Puzzle - Slide the puzzle pieces together!
World Puzzle is a new type of puzzle game in which you can move various pieces of a picture together to create a well-known building of a country.
Travel around the world and move different parts of a photo around in each level so that a picture of a well-known building of the visited country is created. If you manage to put the individual pictures of the World Puzzle together, you will find out the name of the building and where exactly it is located in the country. Some of the pictures are small and others are so large that they automatically zoom in on individual areas. First concentrate only on this section of the picture.
Use your finger or the mouse to play. Click on the puzzle piece you want to move, keep the mouse button pressed and then move it. Strips that you have successfully joined together stay together. So it's best to start with particularly conspicuous parts of buildings or other objects in the picture and then work your way forward.
More puzzle games for every day
If you enjoyed World Puzzle, why not try Jigsaw Collections?
Relax now on your virtual journey around the world and play World Puzzle free online on KibaGames!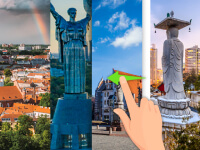 World Puzzle
Originalname:
Game Hits:
0
Online since:
21.
01. 2023
Developer: