Winter Romance
Approved for all ages
Winter Romance - Style a royal couple!
Winter Romance is a cute dress-up game in which you'll be able to create magical outfits for a princess in the style of Elsa and Anna.
Inspired by the Disney movie "Frozen", this dress-up game for your princess offers you a large variety of clothes in the style of the protagonists Elsa and Anna. To start, choose the princess's hairstyle and the expression of her mouth. For this, you'll have two pages with hairstyles in two colors. After that you can start on the outfit. Dress the princess for a ball or choose a cute outfit that will make her look warm and stylish in the snow. There are even glittery, translucent fabrics that sparkle like ice crystals and elegant capes. From bright and wintry robes to cheerful and colorful dresses that slowly herald the arrival of spring, it's all here. Accessories such as flower wreaths, jewelry or gloves also create a royal look.
After the princess is dressed, you can choose her companion. There are three different princes at your disposal, each of them wearing a different outfit. Choose the one that best suits the situation. On the last screen you can also choose the background for the atmospheric picture. Is there love in the air here?
More enchanting dress-up games from AzaleasDolls
If you liked the style of Winter Romance, why don't you play Night Skater?
Style a beautiful couple from Arendelle again and play Winter Romance free online on KibaGames!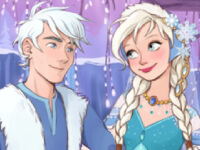 Winter Romance
Originalname:
Game Hits:
0
Online since:
31.
03. 2023
Developer: