Whooo?
Approved for all ages
Whooo? - play Guess Who? online!
Whooo? is a cool puzzle game for kids in which you can guess which person your opponent sees on the card in front of you by using the process of elimination.
Guess which person from the set of cards in front of you your opponent sees hidden by asking him different exclusion questions. Is the person bald, does he have blue eyes or does he wear glasses? You can also ask about skin color, hair color, size of ears, or facial expression.
Many questions and answers according to typical characteristics are possible so that you can approach the target card in Whooo? Be strategic when asking the questions and choose the ones with the most exclusion possibilities.
How to play Whooo?
In this deduction game, cleverly ask questions to eliminate as many cards as possible, which will automatically fall over after your teammate gives his answer.
When there are only one or two cards left, you can click on the person you think is wanted. Is this the right solution?
Of course, your teammate also asks you questions and wants to guess your own cards. Then answer him with Yes - the green tick or No - the red cross.
You cannot lie to your competitor.
Tips and tricks for Whooo?
In Whoo? you have several tools at your disposal, just like in the app:
You can exclude half of the cards at the beginning of a game round by clicking on the icon with the two half circles.
With the green arrow next to it, you can reshuffle the questions.
Unlock more power ups with the golden keys and buy cards with new characters with your earned coins.
Get started with Who is it? online! Guess the right people now and play Whooo? free online on KibaGames!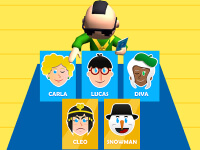 Whooo?
Originalname:
Game Hits:
0
Online since:
07.
06. 2022
Developer: