Uncle Ahmed
Approved for Ages 6+
Uncle Ahmed - platform fun in the Far East!
Based on the classic Super Mario Bros. game, this 2D sidescroller is also guaranteed to be full of action! In Uncle Ahmed it is your task to rescue Ahmed's favorite nephew, who has been kidnapped by an evil sorcerer. 
Jump right into the adventure and run and jump through 60 levels to defeat the wizard and his nasty companions. Collect coins to buy cool power-ups and watch out for the animals that don't seem like you for whatever reason. You can easily get rid of chickens, goats or turtles by jumping on them or shooting them with watermelons using the "X" key. 
Whether deep underground or high in the sky through the clouds, no journey is too difficult for Uncle Ahmed to free his nephew from the magician's clutches, and as a true superhero, he still has a few tricks up his sleeve: use blue potions to jump higher and the hot peppers to run faster, while the shield makes you invincible for a short time.     
Tips & Tricks:     
Jump against the rocks from below and collect watermelons - you can shoot with them and they give you extra protection against enemies  
Some animals like the turtle you have to shoot twice or jump on them twice to get points
If you're game over, you can continue playing by buying a life with coins or watching a commercial, so collect as many coins as you can    
Can you finish all levels with three stars and reunite Ahmed with his nephew? Then play Uncle Ahmed online for free at KibaGames!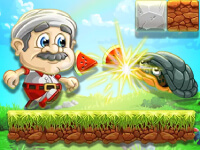 Uncle Ahmed
Originalname:
Game Hits:
541
Online since:
24.
09. 2021
Developer: