Unblock Puzzle
Approved for all ages
Unblock Puzzle - use your brain to reach the goal!
Unblock Puzzle is a tricky brain game in which the goal is to move gray puzzle blocks so that the red block is freed and can reach the exit. You should make as few moves as possible.
Now logical thinking is required! A total of 240 levels in four difficulties are waiting for you to solve them. Can you manage to get three stars in each level? 
Take a close look at the puzzle field and think about the moves you need to make to unlock the red stone in Unblock Puzzle. The fewer moves you use, the more stars you can achieve at the end of the level. If you get stuck, you can press the light bulb button and get help. If you make a mistake, you can also undo your move by pressing the back button with the arrow symbol. 
And even if you completely mess up, it's not a problem - just restart the level and try another way.
Are you ready to put your brain to the test to get all the stars? Then play Unblock Puzzle online for free on KibaGames!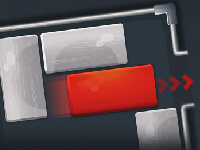 Unblock Puzzle
Originalname:
Game Hits:
0
Online since:
24.
07. 2022
Developer: