Ultimate Car Arena
Approved for Ages 12+
Ultimate Car Arena - play soccer with hot sports cars!
Ultimate Car Arena is a cool car game where you can fight against other cars with a sports car and even play a round of soccer.
Control your sportscar with WASD and ignite the nitro with Shift to go through the big loops. Use the spacebar to ignite the handbrake and drift. But be careful, there are other Mustangs, Porsches or Lamborghinis in this arena that will be eager to take you on and take out an opponent. Don't get caught off guard and be the first to collect all the coins. And if you want to have extra fun, search and find the soccer field and kick a big ball into the goal. Use C to jump on the grass. In case you let the car land on the roof during all your tricks, use R to reset it.
You will love this new racing game! Take advantage of many opportunities for fun behind the wheel and play Ultimate Car Arena free online on KibaGames!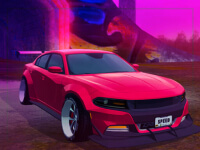 Ultimate Car Arena
Originalname:
Game Hits:
0
Online since:
07.
04. 2022
Developer: