Two Lambo Rivals: Drift
Approved for all ages
Two Lambo Rivals: Drift - race together for the title of Drift King!
Two Lambo Rivals: Drift is a cool racing game where you can race Lamborghinis in single or multiplayer.
Drive through a Tokyo inspired city and compete against a friend in drift racing. Player 1 can use the arrow keys to steer, accelerate and brake, player 2 WASD. Quickly pick a game mode and you're ready to go.
In Drift Classic, the goal is to score more drift points than your opponent. However, the red zone for drifting also shrinks every 5 seconds! In Drag Racing, the winner is the one who crosses the finish line first.
Then deliver fast races, lay into each corner and find out which of you is a real drift king! With the earned money you can then equip your Lambo better and better in the garage, tune it up or buy a new model.
Which Lambo rival will win? Find out now, have fun together at a keyboard and play Two Lambo Rivals: Drift free online on Kibagames!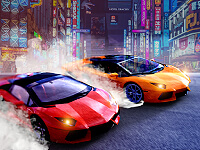 Two Lambo Rivals: Drift
Originalname:
Game Hits:
108
Online since:
10.
02. 2022
Developer: