Twins Sun & Moon Dressup
Approved for all ages
Twins Sun & Moon Dressup - Style two mismatched sisters!
Twins Sun & Moon Dressup is a cute dress up game in which you'll be able to style twin sisters in a light and dark outfit.
Sisters Clarisse and Miryam are twins, but they each have their own tastes and they are as different as the sun and the moon. Style the two sisters each in their preferred style and start with the make up. Clarisse likes warm and light tones and loves daytime. Miryam, on the other hand, prefers dark tones and the night. Make up the sisters accordingly in a first step and apply a light makeup for the day and a dramatic evening makeup. Then choose the appropriate dresses, pants, skirts and tops for day and night and sun and moon. You can top off the outfits with matching accessories.
More fun fashion games
If you liked Twins Sun and Moon Dressup, why not play Fashion Police Officer?
Style the mismatched twins now and play Twins Sun and Moon Dressup free online on KibaGames!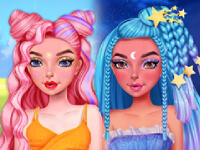 Twins Sun & Moon Dressup
Originalname:
Game Hits:
0
Online since:
26.
05. 2023
Developer: