Tribar
Approved for all ages
Tribar - Build wooden figures!
Tribar is a perspective thinking game in which you can rebuild given shapes.
You have the possibility to enlarge the wooden block in six different directions to get the figure shown above. To do this, use your mouse or finger and swipe in the direction in which you want to extend the wooden block. You have to think carefully and look carefully - don't get confused by the perspectives! The figures get more complex from level to level and the challenge is to build them in as few moves as possible. Sometimes the constructions remind of works of art by M.C. Escher.
More puzzle games with wooden blocks
If you liked Tribar, try Woods Blocks.
Can you achieve all the Achievements? Find out now and play Tribar free online on KibaGames!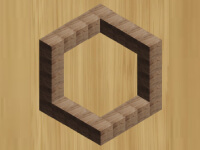 Tribar
Originalname:
Game Hits:
0
Online since:
19.
05. 2023
Developer: