Trials Ice Ride
Approved for all ages
Trials Ice Ride - over hill and dale in ice and snow!
Trials Ice Ride is a cool motorcycle game in which you'll be able to ride over a challenging obstacle course in a wintry environment.
Control the motocross machine with WASD or the arrow keys or the on-screen buttons. Then ride skillfully over each obstacle and reach the finish of each course in the best time to get the highest score and win three stars. If you are good, you'll be able to win numerous achievements in Trials Ice Ride and unlock more and more tracks.
Skillfully climb ramps, old oil barrels and crates in the saddle - no backyard is safe from your riding skills! Lean back and forth at just the right moment, and take some serious momentum to jump over any obstacle.
Don't let the cold and winter stop you from riding your motorcycle and play Trials Ice Ride free online on Kibagames!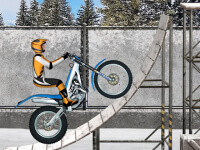 Trials Ice Ride
Originalname:
Game Hits:
508
Online since:
09.
11. 2021
Developer: