The Bonfire: Forsaken Lands
Approved for Ages 12+
The Bonfire: Forsaken Lands - build a settlement in the mysterious No Man's Land!
The Bonfire: Forsaken Lands is an exciting adventure game in which you can build your own settlement in the wilderness and explore the atmospheric surroundings.  
It's winter and you'll build a campfire and a first hut in a seemingly deserted area. Brave the bad weather, collect wood and build more buildings like a mill or a workshop. Soon gain access to new building and crafting methods through a good strategy.
Soon the glow of the fire will attract the first people you can recruit for your settlement project. Hire them and give them the necessary tools to perform their tasks well. For example, a guard will need a torch and a weapon to defend your location against dangerous beasts. Workers will appreciate tools such as carts. And, of course, you'll always need to provide food to keep your small community full and able to work.
The workers automatically follow their activities, but you can also change them to gain other resources or because the external circumstances require it. You must always decide which activity is the most important. Build, fight, trade and make friends with the indigenous peoples. Every day holds new surprises in this simulation!
Play this Steam hit in your browser now without downloading! Play The Bonfire: Forsaken Lands free online on KibaGames!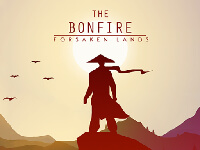 The Bonfire: Forsaken Lands
Originalname:
Game Hits:
0
Online since:
29.
07. 2022
Developer: