Super Yacht Parking
Approved for all ages
Super Yacht Parking - head for the berth you want!
Super Yacht Parking is a glamorous parking game in which you'll be able to steer a large yacht to its berth in the harbor.
A yacht doesn't just sail the seas or a lake all day long, but also has to dock sometimes to refuel, take in new provisions or let the yacht's owners or crew go ashore. To do this, park the watercraft correctly on the green layout area and steer the boat with WASD or the arrow keys. Use the mouse and C to move the camera and change the angle of view to get a better overview.
Of course, the yacht should stay in the given channel and not crash the quay wall or other ships and obstacles. Navigate quickly and skillfully through the harbor basin and get a good score. Many levels invite you to play Super Yacht Parking for a long time!
Let's go, captain! Navigate safely to the next parking lot now and play Super Yacht Parking free online on KibaGames!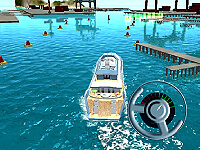 Super Yacht Parking
Originalname:
Game Hits:
0
Online since:
26.
05. 2022
Developer: