Stray Brothers 3D
Approved for Ages 6+
Stray Brothers 3D - let cats fight against dogs!
Stray Brothers 3D is a cute skill game in which you can run around a course with a bunch of cats and fight against dogs.
Similar to Stray, the big indie Playstation hit from BlueTwelve Studio that won the hearts of many gamers, here you are a cat. Run around the course with an orange cat and pass various gates with numbers to multiply and add to increase your feline horde. You should avoid subtracting, i.e. calculating minus, as well as crashing into obstacles.
Increase your cat fighting power this way. Actually cats don't live together in groups, but in a larger number they can take on big dogs. Run over dogs and lose cats at the rate of the dog's value. If you don't control so many kitties at the moment, you can sometimes avoid the dogs. Tap or click in the fight against the boss dog and throw out another ball of wool at the end of the course to earn extra points.
More cat games for you
If you liked Stray Brothers 3D, why don't you play Cat Simulator?
Can you successfully lead Stray's brothers in the eternal battle of dog vs. cat? Find out now and play Stray Brothers 3D free online on KibaGames!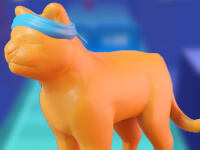 Stray Brothers 3D
Originalname:
Game Hits:
0
Online since:
27.
09. 2022
Developer: