Stickman Tennis
Approved for all ages
Stickman Tennis - become Ping Ping King!
Stickman Tennis is a fun sports game in which you can flatten your opponent in table tennis.
Table tennis is one of the most popular recreational sports and is played in every schoolyard. If the table tennis table is occupied again, you have the possibility to swing the bat on your smartphone or PC in this cool reaction game. Click or tap on the right or left side of the table tennis table to hit with the forehand or backhand and be the first player to score 5 points.
More interesting table tennis games
If you liked Stickman King, why not play Table Tennis World Tour?
Become the new schoolyard hero and play Stickman Tennis free online on KibaGames now!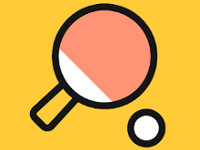 Stickman Tennis
Originalname:
Game Hits:
202
Online since:
20.
07. 2018
Developer: