States.io
Approved for Ages 6+
States.io - conquer new territories with your troops!
States.io is an exciting abstract strategy game in which you can conquer different territories one by one and fight with your opponents for supremacy.
Play with the mouse or by tapping and use an arrow from one of your castles to navigate to the neighboring territory you would like to conquer. Your fortress has a certain score, which must be higher than that of the position you want to take. Your score is constantly growing, but the neighboring country is also expanding its troops. So quickly conquer new countries and states and add their armies to yours. But be careful, of course these cities and countries want to conquer your territories as well. So be tactical and keep upgrading your towers and fighters so that they produce new troops faster.
Win epic battles now and play States.io free online on KibaGames!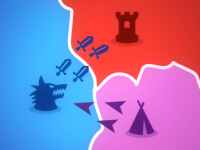 States.io
Originalname:
Game Hits:
0
Online since:
21.
02. 2022
Developer: