Springy Walk
Approved for all ages
Springy Walk - make the slinky jump!
Springy Walk is a fast reaction game in which you can jump with a rainbow slinky over stairs to the new high score.
Operate the rainbow spirale with the mouse or by swiping and steer it safely in large arcs to the colorful goal. Win points for your new highscore. But be careful: the funny stair climber must not get into the sharp spikes.
Gems, on the other hand, should be collected in any case. If you manage to hit the jewels perfectly in the middle, you'll get extra points for your score. With three perfectly hit jewels you can turn on the invulnerable mode. Play the app game now for free and without download!
Jump and bounce over the colorful stairs to a new high score now and play Springy Walk free online on KibaGames!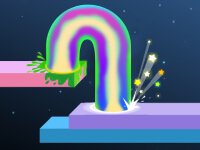 Springy Walk
Originalname:
Game Hits:
0
Online since:
20.
06. 2022
Developer: