Speed Boat Water Racing
Approved for all ages
Speed Boat Water Racing - win fast-paced speedboat races!
Speed Boat Water Racing is an action-packed racing game in which you'll be able to compete with speedboats.
Amidst tropical islands, new challenges await you on the water! Control the speedboat with WASD and ignite the nitro with Shift to make it glide even faster through the waves.
Your goal, of course, is to cross the finish line before the competition and win the numerous levels. Skillfully steer the boat over the water's surface, make it jump over ramps and dodge buoys, sandbanks and reefs.
Each level takes you through a detailed 3D island world and past impressive harbors and beach houses. Quickly achieve a new best time with skill at the wheel and turn fast laps on the racing course.
Let's go! Show what you're capable of as a racer off the road and play Speed Boat Water Racing free online on Kibagames!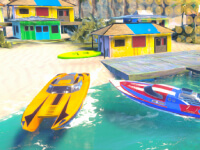 Speed Boat Water Racing
Originalname:
Game Hits:
153
Online since:
09.
12. 2021
Developer: