Snowboard King 2022
Approved for all ages
Snowboard King 2022 - explore every slope!
Snowboard King 2022 is a cool sports game in which you'll be able to speed down the slopes on a snowboard.
Skillfully ride through numerous snowy levels and reach the finish without crashing. Use the arrow keys to steer the snowboarder to the sides and the spacebar to activate the booster. Also collect the coins on the snowboard slopes to further upgrade your winter athlete and his equipment.
Carving, pushing the edges deep into the snow, increases your agility. Under Booster you can improve the speed booster. Stability prevents obstacle effects. Always avoid all obstacles and also pay attention to the surface of the slopes. Gravel, snow hills and ice will slow you down. And of course, avalanches can happen in the mountains - don't let them catch you!
Now get up on the slopes! Ski down the mountains as fast as you can and play Snowboard King 2022 free online on KibaGames!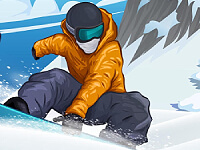 Snowboard King 2022
Originalname:
Game Hits:
21
Online since:
21.
02. 2022
Developer: