Smarty Bubbles 2
Approved for all ages
Smarty Bubbles 2 - The bubble fun continues!
Smarty Bubbles 2 is a classic bubble shooter where you can connect lots of ball chains and pop bubbles!
Play against time in Smarty Bubbles 2 as the bubbles are inexorably pushed down. So watch out - if they touch the bottom of the game, you lose! In addition, you now have to play through several levels - the more of them you manage, the more points you get. But the higher the level, the more difficult it gets, because as the level increases, more colors are added. Thrills and excitement are guaranteed, and only those who keep their cool even in tricky situations will be able to crack the high scores in the end.
How to play Smarty Bubbles 2
In the sequel to the popular Smarty Bubbles, the goal is once again to burst clusters, i.e. larger collections of one color. Aim skillfully with the mouse or by tapping into the narrow gaps of bubbles to catch the clusters where they burst as many other bubbles as possible. Because if there is no more support for the colorful balls upwards, they simply fall down and give good points! Try to connect all bubbles as fast and as early as possible and shoot them away - this way you will get more points.
These are the skills you need for the highest highscores
Fast reflexes
Strong nerves
A steady hand
An eye for clusters
Let's go! Take a break from everyday life now and play Smarty Bubbles 2 free online on Kibagames!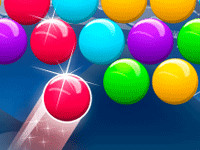 Smarty Bubbles 2
Originalname:
Game Hits:
20.751
Online since:
22.
06. 2012
Developer: