Smarty Bubbles
Approved for all ages
Smarty Bubbles - make the bubbles pop!
Smarty Bubbles is a popular bubble shooter where you can pop lots of colorful bubbles and soon set your personal high score.
Every day you show us at Kibagames which games are your absolute favorites and Smarty Bubbles has always been at the top of the list. Week after week, you enthusiastically pop millions of colorful bubbles and compete for high scores and best times. This classic bubble game by the publisher famobi is a great pastime and challenges every gamer again and again.
How to play Smarty Bubbles
The gameplay is super simple: aim your bubble at other bubbles of the same color and pop them when you can combine at least three bubbles of the same color. The longer chains you can make disappear in Smarty Bubbles with one shot, the better!
To increase your high score, you have to make sure that you keep all the colors in the game as much as possible.
Since you can already see the color of your next shot but one, Smarty Bubbles also requires your strategic skills.
Plan your moves in advance and pay attention to where on your playing field it might be worthwhile to burst bubbles.
Playing across the board and hitting the gaps between the bubbles is always an option as well.
More free match 3 games to fight boredom:
If you liked Smarty Bubbles, why not try fighting for the best score in Bubble Shooter Pro. Or try another great game like Bubble Tower 3D!
So go for the bubbles, play Smarty Bubbles now for free online here on Kibagames!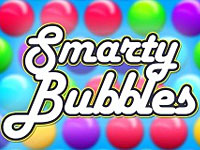 Smarty Bubbles
Originalname:
Game Hits:
106.114
Online since:
30.
04. 2011
Developer: