Slice It All
Approved for Ages 12+
Slice It All - knife throwing for professionals!
Slice It All is a fast-paced reaction game where you can throw a sharp knife and slice through lots of things in the path in front of you!
Play the popular casual game app from VOODOO now as a free online game with no download!
Click or tap to throw the knife and make it spin around in the air. Cut your way through tiles, oranges and other fruits and vegetables, balls, money, boards and much more in each level to collect valuable money points. However, if your knife touches one of the red traps, the level is over. So it's better to let the knife whirl over the traps. Be especially careful when you hit a pile of wood, because there are also traps hidden underneath. Also make sure that your knife doesn't get stuck anywhere.
At the end of the level, you have to throw the knife into the target field in such a way that you get a good multiplier for your points and thus more play money. You can use the money in Slice It All to buy new skins for your knife or change the swinging effect so that a rainbow or glitter appears when you throw the knife. Quick action and good timing are rewarded!
More free skill games for you
If you enjoyed Slice It All, why not play another vegetable slicing game like Slice Rush?
Set a new high score in slicing with a knife, train your reaction skills and play Slice It All free online on KibaGames!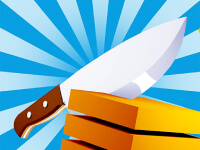 Slice It All
Originalname:
Game Hits:
0
Online since:
24.
01. 2023
Developer: