Skydom Reforged
Approved for Ages 6+
| | | |
| --- | --- | --- |
| Important: This is a new version of the game Skydom, in which you can continue playing with the score from this old version! | | |
Skydom Reforged - Connect the tiles in the magic kingdom!
Skydom Reforged is a revised version of the cool match 3 game, in which you can play through thousands of new duels with fast opponents!
Important: If you already had a save game in the original Skydom game version, it will be kept in Skydom Reforged!
Dive back into the colorful world of the Magic Kingdom and always connect at least three tiles of the same color to remove them from the game and receive points for it. The first challengers will soon be waiting for you to compete against and fight to see who will be the first to reach the level goals. Destroy ice blocks, collect a certain number of carrots or remove the flower pots from the field. With especially large clusters you can also earn boosters like the color joker or the fly. They help you to collect large amounts of points in one turn. Your number of moves is also limited in Skydom Reforged, so divide them up well.
Be sure to gain more lives, visit the alchemist in the main menu, who will brew more boosters for you, such as the hammer and the wand, and unlock the daily duels. Skydom Reforged offers you many interesting adventures, new tasks and there are many new things to discover!
More match 3 games with exciting duels
If you liked Skydom Reforged, why not play Match Arena?
The magical kingdom has a fresh new look! Dive into a new colorful world full of fun combinations and play Skydom Reforged free online on KibaGames!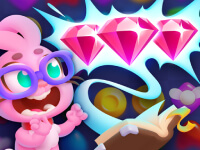 Skydom Reforged
Originalname:
Game Hits:
0
Online since:
06.
01. 2023
Developer: