Sky City Riders
Approved for all ages
Sky City Riders - race with your motorcycle through the air!
Sky City Riders is a cool motorcycle game that lets you control your bike in single or two-player mode over a race track at lofty heights.    
Get ready for some exciting action on the motorcycle and share the gaming experience with a friend on the same keyboard! Player 1 can use the arrow keys to play and the left shift key to ignite the nitro booster. Player 2 can use WASD to steer the motorcycle and ignite the nitro by pressing N. You can restart the level by pressing R. 
Then race against time or with friends in race mode or explore the city in freeride mode. Always reach the next checkpoint and of course the finish. Fly over chasms, dodge rotating obstacles and race through spinning elements. Glide fast over the rooftops of the city and make your way through the Sky City with the right timing on the nitro igniter. Make sure you step on the gas at the right moment and don't crash when jumping over the urban canyons! 
The Freeride mode also has a special feature: collect 30 diamonds to unlock the multicolor skin for your motocross machine.     
Don't miss this new adventure on the bike and play Sky City Riders in single or multiplayer mode for free online on KibaGames!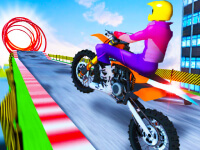 Sky City Riders
Originalname:
Game Hits:
827
Online since:
09.
09. 2021
Developer: